Are you holding a 'lifestyle company' in your junior explorers' stock portfolio?
Or considering one that might be?
5 questions to find out FAST, and reduce your risk:
As a small cap investor, you do research on stocks in hopes of finding gems before they blow up.
Recognizing risks as early on as possible is crucial to safeguarding your capital.
(I'll cover how in a second)
Alas, risks are exponentially higher with juniors.
When you are focused on younger, smaller companies, risks are higher than say blue chips.
Juniors are the mining sector equivalent to tech startups. If you get in early enough, upside can be substantial. But not all will find a deposit or build a mine.
To get DD started, I created a 'lifestyle company checklist'.
Essentially, it's a list of red flags based on my years of experience investing and dealing with juniors.
When MOST are present, an investment in a particular stock is much riskier, so I stop there and stay away.
Simple enough?
We'll get to the list shortly, but first, let's clarify what I mean by 'lifestyle company' or 'lifeco'.
(And no, I don't mean any health, fitness, real estate or any sort of lavish lifestyle co).
To me, a 'lifestyle company' is a publicly listed entity that creates little wealth for the bulk of its investors, aside from insiders employed in the operation.
And while doing that, it destroys the confidence of investors and gives the sector a bad reputation.
Most 'lifecos' are under $10m in market cap, but a few will go as high as $25–35m.
In the main mining exchanges, the <$35m bucket is a huge portion of the total, hence it makes sense to have a clear set of rules for due diligence.
📊 @synergyrescap (2021 data)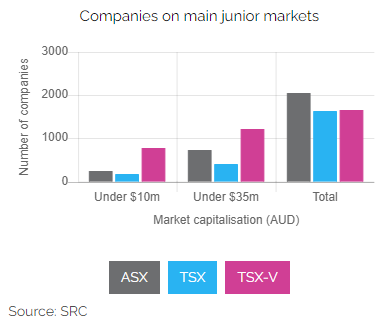 You may have seen some, suspected, or even been burned by one (like this tweet if you have).
These companies muddle the playing field, and make things much harder for SERIOUS juniors.
So… how can you screen the bad apples out and reduce your risk? Enter my simple yet powerful 5-question checklist.
Let me show you how ↓
1/Do they exclusively buy projects in 3 to 5-year option agreements, lacking any meaningful generative exploration efforts?
This means they retain ZERO value if/when dropped.
Why is that?
Generative exploration is how a miner adds 100% owned assets to their portfolio cheaply. Acquisitions in turn are more expensive and the vendor normally retains participation or an NSR.
You want a combination of option agreements + 100% owned in a healthy portfolio.
2/Did they enter or exit 2+ countries, and/or drop 2+ projects over the last 5 years?
As they fail to find anything economically viable, they abandon countries and/or projects.
They drop projects just before large payments are due or significant milestones are achieved.
At times, leave plenty of bills unpaid, causing much harm to local contractors, claiming to have run out of money.
They may offer shares in lieu of payment, which often are highly discounted by the time any applicable lock-up periods end, as their stock tends to be volatile.
3/Did they change commodity of focus and/or name over the last 5 years?
First, they are focused on gold, then on copper, then… you get the idea. And the change is not fueled by a discovery in an existing project but by the intent of chasing sentiment.
And guess what?
The change always reflects the hot commodity of the moment.
So when lithium is lit, they ditch minerals, metals, mining or resources from their name to embrace it.
They may pick a completely new name too.
4/Do they raise capital several times a year?
Usually have decent access to capital, so they constantly raise to drill, seemingly rushing exploration efforts -instead of being more strategic and combining other exploration methods- thus diluting investors more than sensible.
Let's pause for a sec.
I know what you are thinking.
'But Paola, many legitimate companies do some of these!'.
Yes. that's true. So you need a cluster of at least 4, and the last MUST be present.
(Scroll further for the score key)
But here's the piece-de-resistance.
5/No changes in management and no discoveries, progress, or real growth (measured by enterprise value, so market cap minus cash plus debt) in 5–10 years?
I believe they do this by design. It's not just bad luck or tough markets.
And they tend to be repeat offenders…
Once a "cycle" is over, they'll do it all over again, most typically with the same name (unless they indulged in #3) and always with the same team.
That's it. I said it was pretty simple, didn't I? The most useful tools are.
But you know what the best part is?
You can normally find answers to these questions by searching publicly available information.
No fancy subscriptions, just Google, their websites, a bit of time and patience.
Here's the summary in 1 tweet ↓
Lifeco checklist
• Only option agreements?
• Left 2+ countries/projects in last 5y?
• Switch in commodity/name in last 5y?
• Constantly raise capital, up to several times a year?
• No management change, progress or EV growth in last 5-10y?
📑 Bookmark this
Score key ↓
How to interpret the score: You'll get a YES or NO.
If YES:
0-3 (not inc #5): Straight to DD, likely 'in it for the right reasons' ✔
4 (not inc #5): Dig deeper, may be ok ❓
0-3 (inc #5): Dig deeper, may be ok ❓
4-5 (inc #5): Risky 🛑
📑 Bookmark this
Do you have any checklists of your own? Share them below for other investors to benefit.
Thanks for reading!
If this was useful, please retweet the start of the thread.
Follow me @paola_rojas for more on metals, markets and tech.
Originally tweeted by Paola Rojas 🐝 (@paola_rojas) on July 16, 2022.
---
If you enjoy my content for investors and are ready for more, start here:
---
Disclaimer: Our content may contain affiliate links, meaning we may receive a commission on products or services you buy. We only recommend products and services we use and love, so rest assured our opinions are unbiased.