Mining is a multi-year endeavour. At times, decades can go by.
Understanding the process may help define your holding timeframe.
Here is the mining life cycle in a thread:
Think of phases as links in a chain. You need all working in harmony:
• Exploration
• Consultations, permitting and finance
• Construction
• Mining
• Mineral processing
• Smelting & refining
• Closure & reclamation
By the end, we'll add a crucial link so stick with me.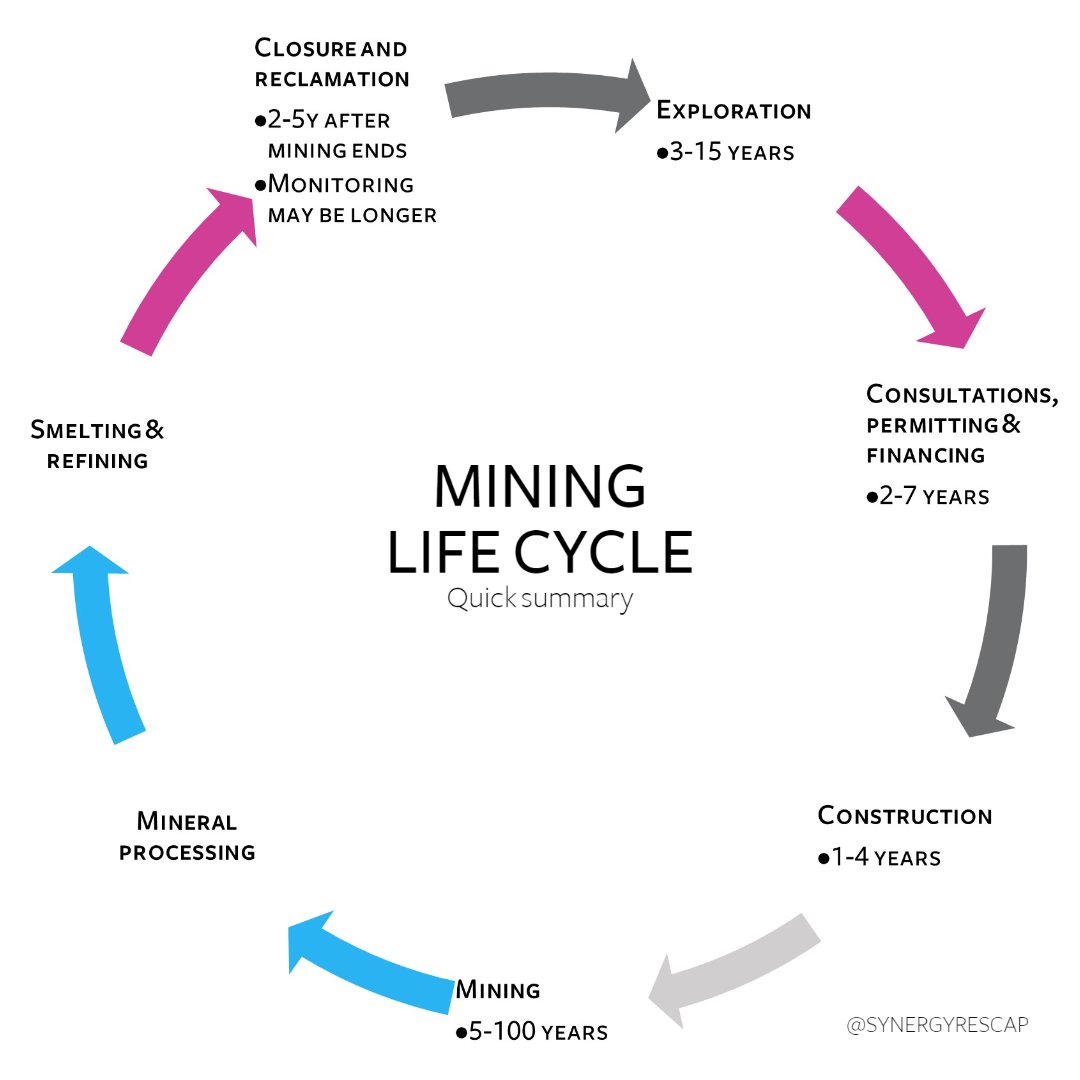 1) Exploration: 3-15+ years
This is when you search the earth for deposits that may host valuable minerals.
A deposit must be identified, measured and deeply understood (including its metallurgy) before it can become a mine.
Less than 1% of projects will become a mine.
Exploration can be subdivided in:
• prospecting: surface exploration
• exploration: drilling starts
• advanced exploration: deposit is known but its economics are still imprecise
• development: feasibility and beyond
(more on studies here)
2) Consultations, permitting and financing: 2-7+ years
Once a deposit of reasonable size has been identified, and it's deemed to be profitable if put in production, a series of activities take place to ensure it's feasible to move forward.
It's a stressful phase. 😪 $RIO.V
Consultations: discussions with communities in the project area are conducted to confirm social license.
Permitting: submissions to the government seeking authorisation to mine.
Financing: using all studies, it's time to make a 'construction decision' and secure financing.
3) Construction: 1-4 years
If the decision is yes and financing is successful, it's time to start construction.
Long lead items are secured as soon as possible, and the site effectively becomes a construction site.
Headcount rises steeply $SYA
May get subcontracted (EPCM).
4) Mining: 10-30+ years
Once built, in the beginning, tests must be run to gradually ramp up to nameplate capacity.
This is simply to reach the designed production throughput while making sure all processes work as planned with no errors.
$AKE had issues but solved them.
Whether underground or open pit, material is removed from the natural ground according to a mining plan and pit design. Large equipment is used, such as trucks, excavators, and bulldozers.
Ore is stockpiled in dedicated areas and awaits turn to move to the next step.
5) Mineral processing
Completed at the mine site or in a different location, totally/partially.
Stockpiled ore moves through crushers, grinders, tanks, etc. Flowsheets can be complex and vary wildly!
Some operations process preexisting stockpiles first.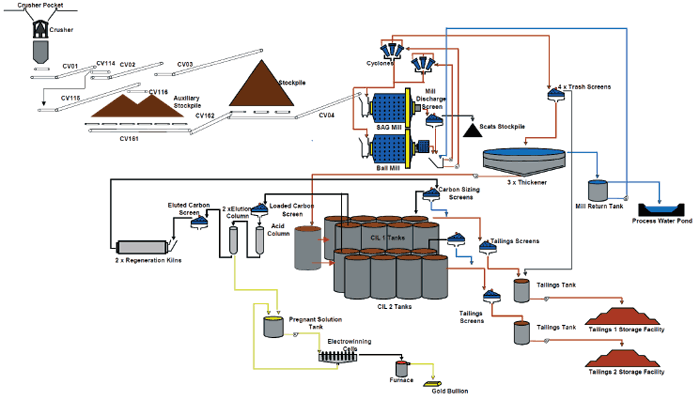 6) Smelting & refining
Some mines sell concentrate to their clients, others will send to smelt/refine it and then sell it.
Smelting melts ores via pyrometallurgy and refining basically increases the grade or purity.
Australia has 2 gold refineries @ABCRefinery & Perth Mint
7) Closure and reclamation: 2-5 years after mining ends/ monitoring may last longer
Once the deposit has been depleted and no efforts to expand are possible anymore, mine closure starts.
The specific process will vary depending on each mine.
Essentially, significant efforts are made to bring the site to the best possible state within a specified budget (defined before the construction of the mine).
Revegetation, soil movement, as well as programs to aid the economy for nearby communities and monitoring the process.
What now? Remember when I said think of links in a chain?
It's because companies must keep working the cycle.
But once mining, you must explore to:
– expand resources
– find higher grade zones
– add satellite deposits
So here's my addition to the traditional cycle: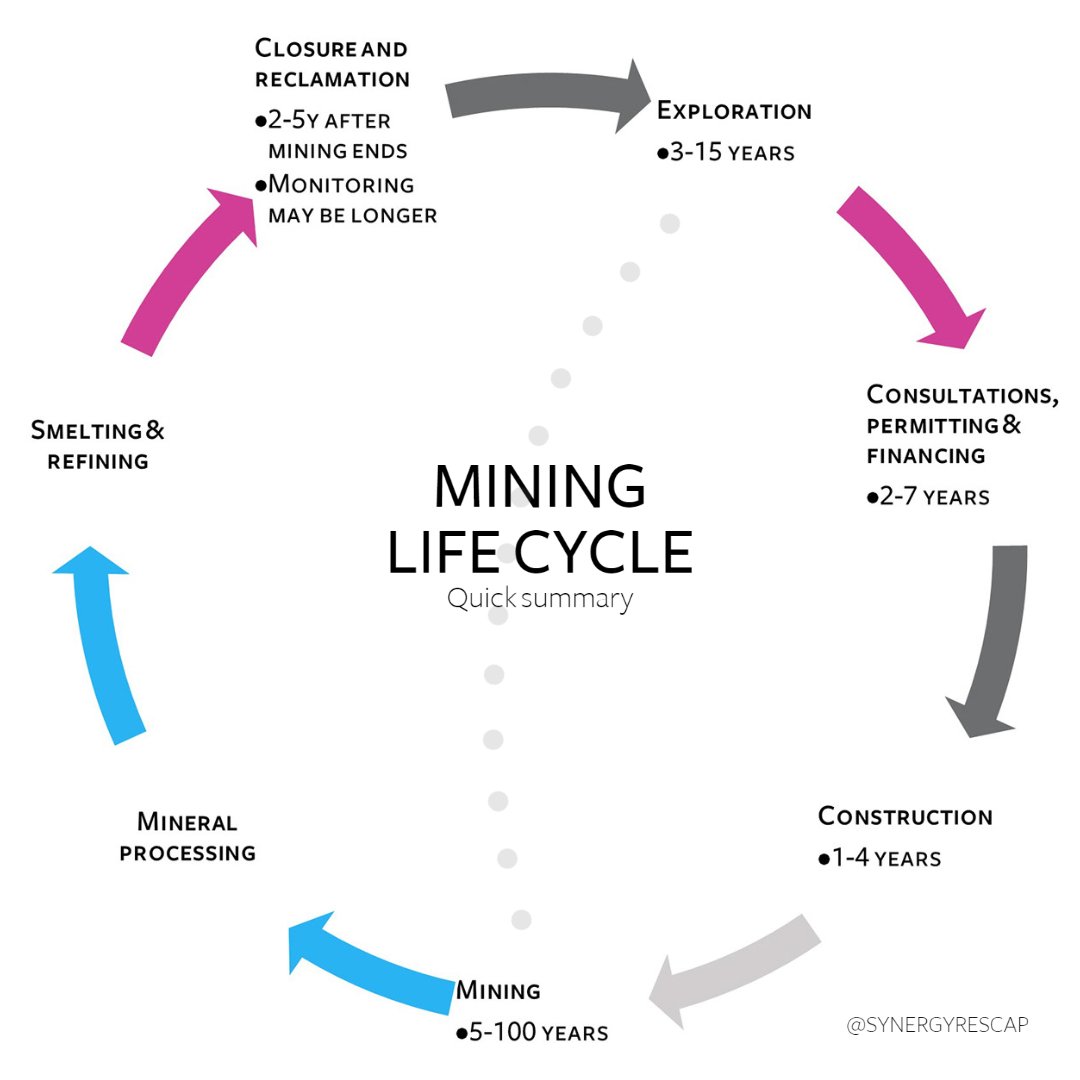 And that's a wrap!
By understanding the mining life cycle you can plan your investment horizon with more clarity and manage your own expectations.
Keen to dig deeper? Visit my blog:
If this was useful, please retweet the start of the thread.
Follow me @paola_rojas for more on metals, markets and tech.
Originally tweeted by Paola Rojas 🐝 (@paola_rojas) on October 1, 2022.
---
Keen to keep browsing? Here's a collection of my best content:
---