1/ Here we go again.
$GS and $CS announced bearish views on lithium.
Stocks in the sector plummeted.
I spent hours reading news and reports to give you a well-rounded summary of what investors and experts say.
(and my thoughts at the end)
Buckle up:
2/ What happened:
• Goldman Sachs forecasted lithium supply to outpace demand starting 2023, to exacerbate by 2025
• Credit Suisse said that a major cathode producer *might* slash production targets, and some firms see a softening market in 2023, all in China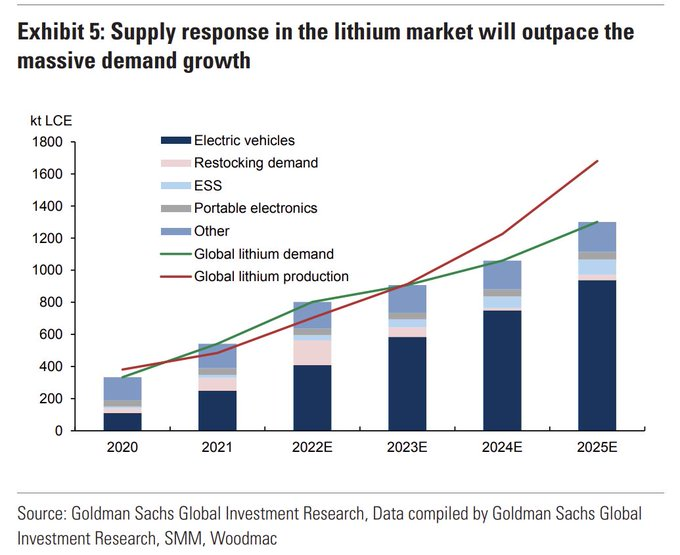 3/ The aftermath:
• Large cap: most +$1bn market caps down at least 3%
• Emerging developers: shedding, some up to 13%
• Small cap/juniors: some fell up to 19%
• Futures are down mildly
• $LIT falling 8%
Painful week overall.
$SYA $IGO
4/ It's not the first Goldman-induced selloff
Back in June, GS said "the battery metals bull market has peaked"
On that day $ALK, $PLS and $CXO fell more than 15%.
It took them ~2 months to recover.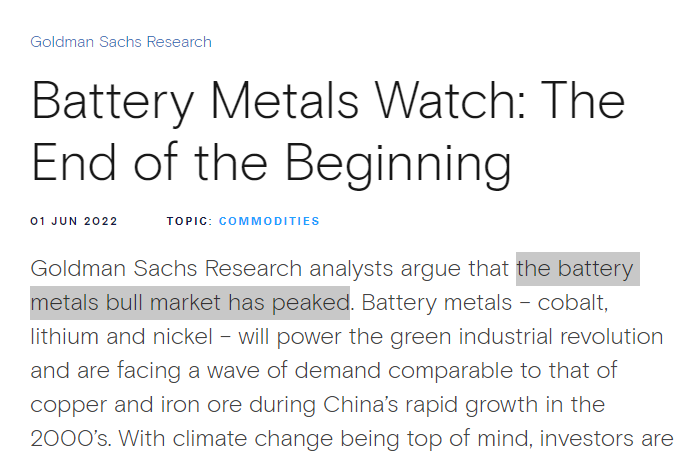 5/ So, are they right now?
Here's what the lithium experts are saying:
• Simon Moores
• Rodney Hooper
• Joe Lowry
• SQM
Plus
• Bloomberg
• JP Morgan
Let's hear them out.
(and keep reading for my insights)
6/ Too soon
Just a few days ago, @sdmoores, commented on $GS acknowledging their mistake in predicting surplus for this year.
I retweeted it.
FYI Simon is CEO of @benchmarkmin, they track lithium pricing and supply/demand. Literally their focus.
7/ They had one job!
$GS was wrong about the dynamics (surplus vs deficit) but also regarding price
They forecasted $54,000/t.
The price for lithium carbonate not only didn't drop but soared a further 24% since their last report, to yet another all-time high.
Oops.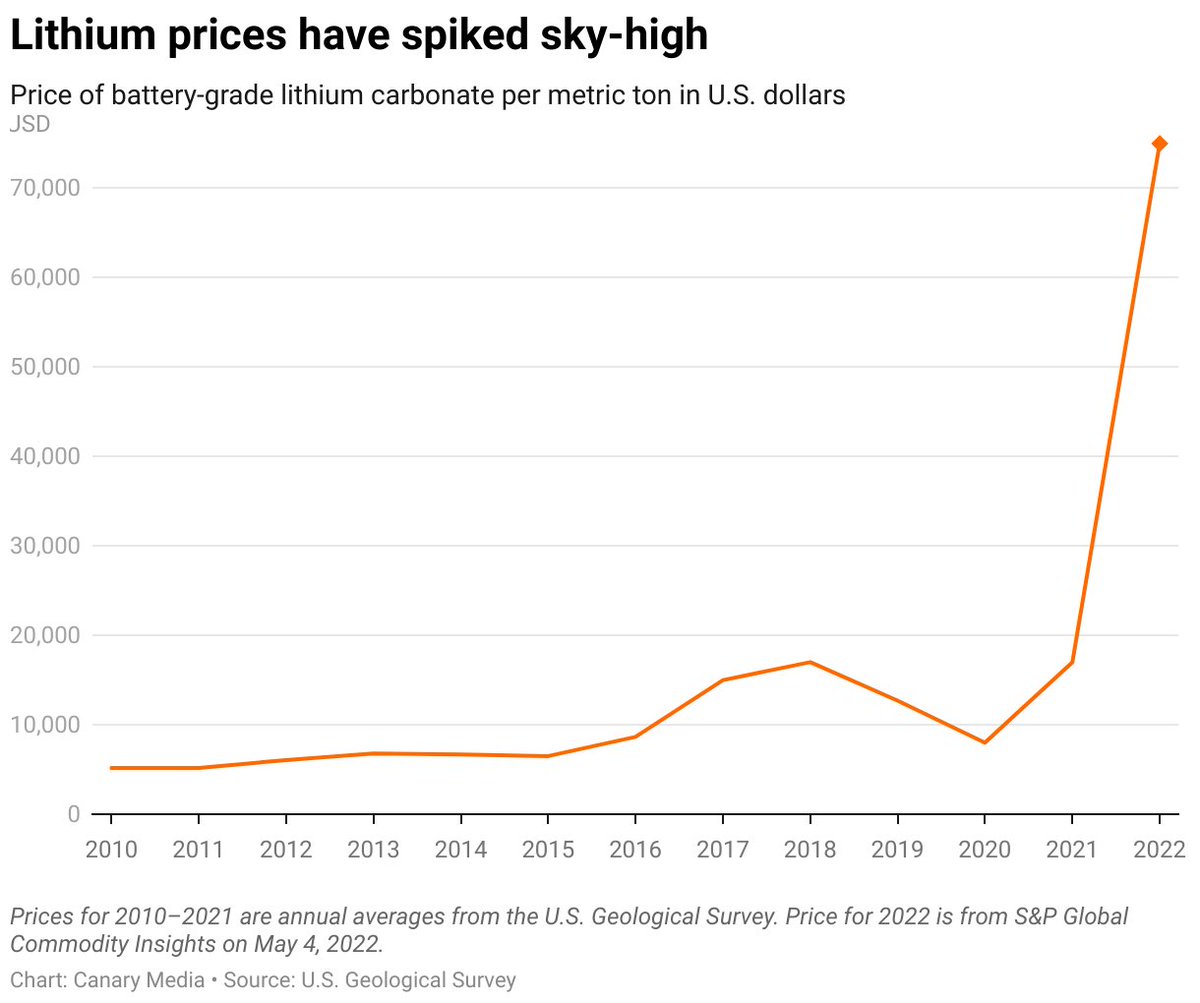 8/ Benchmark put out a strong response back in June
Here's my summary of that piece, which still applies today.
I guess they didn't read it? 🤔
9/ RK Equity doesn't buy it
"I'm reiterating the issues I have with the (previous) Goldman Sachs report (and) the new version of the report,"
Said @RodneyHooper13 of RK Equity via Investing News Network @DigMedia
Rod still sees a shortfall for next year.
10/ Joe Lowry goes a step beyond
(he goes by "Mr Lithium" and word on the street is he forgot to call me while in Sydney)
11/ JP Morgan enters the room
$JPM said CATL -largest manufacturer of EV lithium-ion batteries- cut production in November.
They also noted this is expected (January sales are always lower) although cuts seem bigger than 2021's.
Maybe just demand correction post covid?
🤔
12/ SQM knows a thing or two
They expect high lithium prices to remain.
"On top of the strong demand growth, similar to what we have seen in the past, new lithium supply outside of $SQM has been delayed and slow to come online," the company said.
13/ Bloomberg chiming in
"The slowdown in demand, if any, will likely be relatively tame given that demand outlook still points to accelerated growth,"
Allan Ray Restauro, analyst at @BloombergNEF.
14/ Should we trust Goldman?
• They were wrong in June
• Simon pointed out the issue with market makers doing research.
• If you go through $GS 13F filings, their positions in lithium stocks are growing (h/t @TheBetterBull)
• Rather follow the money!

15/ My views:
• Just a handful of new producers have come online this year
• New developers have a massive challenge ahead, will take them years to reach designed capacity
• Hence, announced supply is not assured (yet) and traditionally gets delayed
16/ My views: (cont'd)
• There's a slew of new explorers coming to market, this is true. From recent listings to upcoming.
• However, even if all of them succeed (unlikely), these new players are at least 5-7 years away from production in the best-case scenario
17/ My views: (cont'd)
• I'd expect lithium prices to soften, and may fall a bit
• This is being factored in PEAs and other economic studies as new developments are using conservative assumptions (hearing ~$25,000-30,000/t vs @LME_news ~$84,100/t, so good cushion).
18/ Demand for metals overall likely to keep climbing
• China's growth may have slowed down but it won't stay subdued forever.
• The energy crisis is exacerbating and the energy transition is metal-dependent.
No metals, no transition!
19/ Want to keep reading? Oz focus
Here's a great summary via @MarketIndexAU for those interested most in Australian names such as $AKE $PLS $CXO $LKE $LTR
https://www.marketindex.com.au/news/lithium-stocks-smashed-after-bearish-notes-from-goldman-sachs-and-credit
20/ Want to keep reading? CA/US focus
If you have more exposure to Canadian players, you'll prefer this piece that mentions $ALB $SQM $LTHM $PLS $MIN
https://investingnews.com/lithium-stocks-fall-banks-bearish/
21/ PS: some background (or maybe noise, you decide)
• $GS announced layoffs to the tune of 3% of their workforce
• allegedly, they are a toxic workplace for women – ouch
22/ That's a wrap.
Been investing in lithium since 2008. Booms keep getting bigger and valleys smaller!
TL;DR
1) GS/CS bearish lithium
2) A new bloodbath globally
3) Experts disagree with GS/CS
4) Can we really trust Goldman et al?
5) Capacity doesn't equal supply, for real
Originally tweeted by Paola Rojas 🐝 (@paola_rojas) on November 18, 2022.
---
If you enjoy my content for investors and are ready for more, start here:
---
Disclaimer: Our content may contain affiliate links, meaning we may receive a commission on products or services you buy. We only recommend products and services we use and love, so rest assured our opinions are unbiased.