Once an exploration project is advanced enough, economic studies are conducted to assess its viability in both current and near-future market conditions.
It allows comparison with other projects.
And the key unknowns become known.
Here are the 12 main outputs from these studies to help you research any project for your portfolio
Here we go:
1. Mine life
Simply, how long the mine is expected to operate given assumptions used in the study.
Most mines will operate much longer (due to increased reserves, grade variations, technology improvements), but this is the starting point.
Note how it fits within the lifecycle
2. Annual production and life of mine production
The average annual production of ore mined or pounds of relevant metals that will be produced, depending on the type of mine.
Similarly, life of mine production is the total production from first to last day of operation.
3. Head grade
This is the grade that will feed the processing plant or mill.
Typically it is the same as per mineral reserves.
Higher always better.
But low grades can be economic especially if byproducts.
(I'll be covering optimal grades in detail in an upcoming thread)
4. Strip ratio
The waste rock that needs to be removed per unit of ore mined in an open pit.
Typically, you'll want this to be low (e.g. less than 1: 1 is good while higher than 3: 1 may be uneconomic).
Note: high/bonanza grades can make high strip ratios feasible.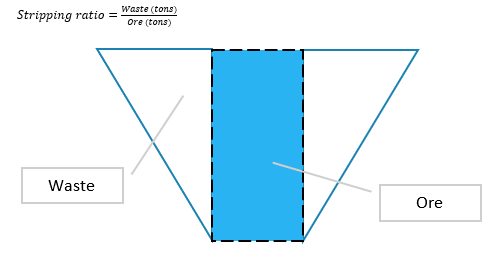 5. Metal prices
When completing any type of economic study, authors will choose a future price for any metals contained that can remain sensible for a few years (3-5y typically).
Most will be conservative.
Be wary of bold assumptions.
6. Recovery rates
Exactly how much of the mineral/metal can be recovered from the ore with the selected process and technology?
The higher, the better.
Optimising recoveries can even push a non-economic deposit to the green.
7. Operating costs or OPEX
This is the variable cost to produce each unit of ore or metal.
Typically broken down into costs linked to mine and mill, and general and administrative.
8. Capital costs or CAPEX
These are the total costs associated with the construction of the mine.
Includes:
– plant
– infrastructure
– energy supply
– waste/tailings
– camp/offices/buildings
– contingency
and more
9. Exchange rate
How forex fluctuations can affect cashflows.
Mining projects have high currency exposures, given the different pieces of the puzzle can come from all over the world.
– local costs
– exports/imports
– foreign costs
– financing costs
– taxes globally
10. Payback period
The initial investment needs to be paid back before investors can start collecting dividends.
This is the length of time (expressed in years) that will take for the mine to pay back the initial capital outlays.
Typically within 2-5 years.
11. NPV or net present value
Any amount of money in the future is not worth the same as today.
NPV is then, the present value of future cash flows, and the discount rate used is typically the expected cost of capital.
You can use NPV to compare various projects.
12. IRR or internal rate of return
The rate of return on the investment in a particular mine.
Higher is always better.
Most typically you'll see values in the range of 10%-20% or better.
That's a wrap.
Knowing what to look out for when a new study is announced will help you inform your decisions and compare investments.
Key outputs:
-IRR
-NPV
-OPEX
-CAPEX
-Payback
-Mine life
-Recovery
-Strip ratio
-Head grade
-Metal prices
-Exchange rate
-Annual production
Originally tweeted by Paola Rojas 🐝 (@paola_rojas) on December 9, 2022.
---
If you enjoy my content for investors and are ready for more, start here:
---
Disclaimer: Our content may contain affiliate links, meaning we may receive a commission on products or services you buy. We only recommend products and services we use and love, so rest assured our opinions are unbiased.